Two weeks before Walk4Water8, Gary and Judi Mittelstaedt gave a presentation to the Lake Oswego Rotary International Service Club. (Read about the surprise donation we received there!) Later that evening, WaterAfrica received an unexpected email from 12-year-old Karthik Sreedhar, a student at Lakeridge Junior High. Karthik had also attended the LO Rotary meeting that morning to receive the $100 prize for his winning submission in an essay + speech contest.
In his email, Karthik said he was very interested in the WaterAfrica information he'd heard that day. Unable to attend the Walk because he was going to be out of town, Karthik said he wanted to donate his prize money to WaterAfrica to provide clean water for people living in rural Zambian villages.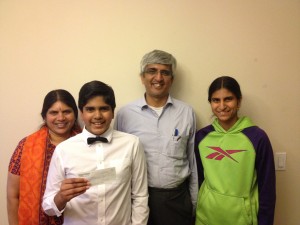 Responding to this remarkable email, Gary and Judi arranged to meet Karthik and his family. They learned that Karthik spends his time and energy learning and practicing taekwondo, tennis, Chinese language, viola, and piano. He loves cars and dreams of owning a car manufacturing company some day. Karthik's parents are both electrical engineers and his sister is a 16-year-old senior at Lakeridge High School, heading to Caltech next year!
Karthik told Gary & Judi that when he heard them speak about life in rural Zambia, explaining how $50 will provide a life-time of clean water for one person, he looked down at his shoes and realized they cost more than that! As he reflected,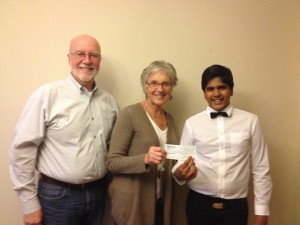 Karthik concluded that he didn't really need the shoes. In fact, he didn't need anything. He thought about how he could shower and get a drink without giving it any thought. This moment of realization also resonated with Karthik's interest in conservation of natural resources and he responded by choosing to give his prize money to WaterAfrica – providing lasting clean water for 2 people living in rural Zambia!!
Clearly nurtured in an ethic of gratitude and generosity, Karthik wants to apply his passionate mind and voice to the WaterAfrica story and we couldn't be more delighted!! He's been invited to join one of our planning committees and we eagerly anticipate the development of this conversation with Karthik.
Thank you, Karthik Sreedhar!