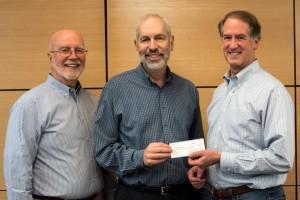 WaterAfrica President Gary Mittelstaedt and Treasurer Kevin Cummings delivered a $160,000 check to Alan Shiffer, World Vision this month. We have never raised this much money in such a short time before and we are grateful for the generous support of our WaterAfrica community! This check represents donations generated by our Clean Water For Life event, donations from the first part of our 2015 End of the Year Campaign, and contributions from our local matching donors. This total will multiply further through an additional World Vision match.
This is an exciting time to join with us in raising awareness and funds for clean water in Zambia:
Raising Awareness, Raising Funds, Transforming Lives. Thank you for joining us in this life-changing work. We are on pace to see the end of the African water crisis in our lifetime: Clean Water For All!