A rainy Oregon spring morning did not keep more than 300 people from gathering at Foothills Park in downtown Lake Oswego last Saturday for our 8th annual Walk4Water. See our Facebook page for Walk4Water8 pictures!
We are grateful to all the Walk4Water8 Participants, Volunteers, Sponsors, Business Partners, and Donors as we celebrate the success of this life-changing event.
We Met Our Walk4Water8Fundraising Goal!
Fundraising Update 5/8/15
We raised over $70,000
to provide life-changing Clean Water to more than 1400 people living in rural Zambia!!
---
Walk4Water8 Info
Mark your calendars! You don't want to miss Walk4Water 8! Join us in downtown Lake Oswego on April 11, 2015 for our 8th annual Walk4Water.

Walk4Water8 is a stroller-friendly 2-mile walk beginning and ending at Foothills Park in downtown Lake Oswego, Oregon. To simulate the experience of villagers in Zambia, we will walk to the water source, fill our buckets with water, and return to the starting point.
Registration begins at 8:30 and the Walk begins at 9:00am.
Registration: $10 Student/Child | $35 Individual | $70 Family | $250 Family Sponsorship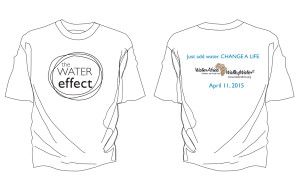 T-Shirts: Short-sleeve tees will be available for $10 purchase the morning of the Walk. (50% of purchase price is a donation to Walk4Water8 proceeds) Shirts will also be available for purchase before and after services at Lake Grove Presbyterian Church on March 28-29.
Last year we had 300 participants and we met our fundraising goal of $70,000 to provide a lifetime of good WASH for 1400 Villagers in rural Zambia! Please join us again this year and help us reach even more people with clean Water, Sanitation, and Hygiene in rural Zambia.
Sponsors play a critical role in the success of the Walk by allowing us to fully fund event expenses so that event registrations can be applied to World Vision's WASH work in Zambia.
If you would like to be  Corporate or Family Sponsor, please find more information on our W4W8 Sponsor Information Page!
We look forward to working together for another life-changing Walk4Water! Thank you!