WaterAfrica's fundraising supports World Vision's Water, Sanitation & Hygiene (WASH) work in rural Zambia. In our ongoing effort to serve as a trusted conduit between our donors and the impact of their gifts, WaterAfrica representatives traveled (at their own expense) to Zambia in July 2015, to get a firsthand update on World Vision's WASH work there.
World Vision works with local government to identify communities in need of WASH interventions, but each community is responsible for significant investment before clean water is put in place. Bulanda Village received a borehole one year ago and is an excellent example of a community near the beginning of World Vision's WASH program.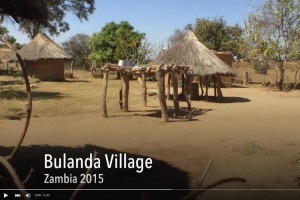 The Village Headman, Water Caretakers, and Hygiene Champions took us first to their old water source and then showed us their new pump. They told us about the impact clean water has had on their health, and several girls spoke about how they can go to school now that their health has improved. They told us how they lived before they understood that poor sanitation and hygiene created many of their health problems. They showed us how they prepared for and took care of their clean water point and they told us about their plans for future development.
Please take a few moments to hear these voices!
In Preparation for Clean Water Each Village Must:
✔︎ Raise $250 before beginning a Clean Water Project with World Vision.
✔︎ Use locally sourced materials to prepare 6 elements:
Latrine: Replaces the practice of open defecation and keeps human waste isolated.
Rubbish Pit: Replaces the practice of scattering garbage around a community.
Hand-washing station
Bathing Shelter: Replaces washing in community water sources.
Raised Dish Rack: Replaces the practice of drying dishes on the ground. The rack keeps the dishes out of animals'
reach, and the sun sanitizes the items.
Water Storage Container with Lid
[one-third-first]
[/one-third-first]
[one-third]
[/one-third]
[one-third]
[/one-third]
✔︎ Participate in water point site evaluations, and if necessary the Village must create an access road for the drill rig.
✔︎ Select a VWASH (Village WASH) Committee, which is trained by World Vision and Government partners. This Committee leadership includes a chairperson, vice chairperson, secretary, treasurer and 2 pump caretakers (to daily check and maintain the water point). Village WASH Committees must be comprised of at least 50% women. Sebastian Kunda, World Vision Zambia WASH Program Manager said, "Our mothers are key…. In communities with women as caretakers the results are better."
✔︎ Be Assigned a regional PumpMinder.  PumpMinders serve 15-20 water points in a 9-12 mile region. They are provided training, tools and bikes through World Vision's partnership programs and generally receive payment in kind from the Villages when are called upon to service the pumps.
The story of Bulanda Village is just the beginning!
Life-saving clean water in the context of good sanitation and hygiene creates a solid foundation for a powerful development program to ripple and splash to fullness of life – creating communities where children thrive.