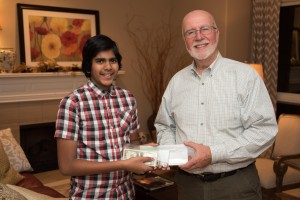 Lakeridge High School student Karthik Sreedhar attended WaterAfrica's November board meeting to deliver a $317.20 check from his  Qdoba – WaterAfrica fundraiser in September. He also donated $95.70 from his recent bottle drive efforts!
This fall Karthik has also been organizing a new WaterAfrica Club at Lakeridge High School. Karthik and his WaterAfrica Club members helped us field questions and brainstorm Youth Involvement at our recent Clean Water For Life event.
Thank you, Karthik & Friends for your remarkable committment to changing lives by providing access to clean water!