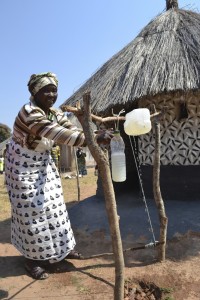 We were repeatedly impressed with the ingenuity, resourcefulness and resiliency of the women we met on WaterAfrica's Zambia 2012 trip. Again and again we saw examples of villagers building on a WASH (Water, Sanitation & Hygiene) element not only to improve its function, but often to also add aesthetic value to its design. We visited a village primarily led by women. Clean water had not yet come to their community but they had already implemented sanitation and hygiene skills they learned from neighboring villages. Listening, learning and changing in order to bring health and opportunity to their village, these women were determined, creative and resourceful. Inspired by designs they'd seen printed on their chitenge skirts they even painted their buildings – including the latrines both inside and out! And they did NOT stop at Home Depot for paint!!!
What would these amazing women accomplish if they didn't have to spend their time collecting unsafe water for their daily needs?? 
At the recent Hope2Opportunity event presented by Columbia-Willamette Chapter of Women of Vision, Kari Constanza, World Vision Journalist/Reporter spoke about her WASH related travels with World Vision. You can watch Kari's short film Walking In Sabina's Shoes, online here and see Kari join a Kenyan lady named Sabina on her daily trek to water. In the film Kari tells us that 3 years earlier Sabina had visited someone who lived in a community with a spring fed source bringing water right to her own property and when it was time for Sabina to go home she lamented the return to her personal plight of walking hours for water each day.
After the film ends, the story turns joyful when a water project in Sabina's region brought water to her village and a spigot to her own backyard! A year after Kari walked with Sabina, Angela Schug, World Vision Marketing, visited her and wrote about it in this blog post. Check it out and you can see a picture of Sabina by her backyard water spigot!  Angela also spoke at Hope2Opportunity and told how she took World Vision magazines to show Sabina that she'd been featured in stories, but Sabina couldn't read the words. Because her days had always been spent fetching water she'd been unable to get an education! What would these women do if they had more time??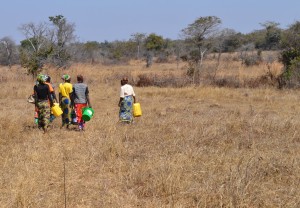 By supporting World Vision's WASH program in Zambia, WaterAfrica helps to create more time for these women. The ZWASH program empowers the villagers and opens the door to hope and possibility. While we were in Zambia last summer WaterAfrica's travel team met with a group of women who had a brand new borehole with clean, safe water just moments from their homes. You can see more about our visit here. For years these women walked the 1-hour round trip to their dirty water source, 3- 5 times each day! Now their lives had radically changed. Please take 30 seconds to watch the clip below. You will see a tremendous grin of gratitude and you will hear hope in answer to the question: What will you do with your time?? 

(if you're reading this through your email subscription you need to click through to WaterAfrica's website to watch the video)

Today is International Women's Day and we celebrate the many women and girls we have met in rural Zambian villages. Their hopes and dreams are stuck in the realities of living without sanitation and hygiene resources and lacking accessible, safe water. Their stories inspire us to stay diligent and focused in our efforts to bring life-changing resources to their communities, thus giving their hopes and dreams opportunities to thrive.
What would these women do if they had more time? What would their daughters do??
As you consider ways you might respond on this International Women's Day we invite you to help WaterAfrica create more time for these women and girls by supporting World Vision's WASH program in Zambia.