Because of the generous support of our Walk4Water Sponsors, 100% of Walk4Water5 proceeds are given to World Vision's Water, Sanitation & Hygiene projects in Zambia (ZWASH).
We've asked several of our sponsors Why they choose to sponsor Walk4Water5 and we've previously featured Dr. Quenton Gebeau and Mr. Ward Hubbell.
Another W4W5 Sponsor, Dr. Michelle Vessely just returned from Zambia this week. Her surgical team was in Lusaka performing cleft lip and palate surgeries at a CURE hospital, which is specifically focused on poor children with deformities and disabilities. You can read more about her work here.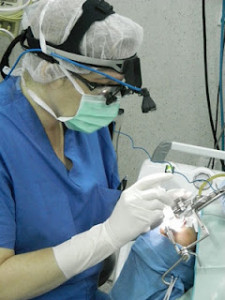 Dr. Vessely on Surgical Mission
When we asked Dr. Vessely why she supports Walk4Water5 she said:
I support the walk because I've seen firsthand the devastation that dirty water wreaks on people. Disease, death, lack of schooling for the girls. While in Zambia I passed people on the road carrying water in large bottles and jugs – the lack of access to clean water is real. I'm so impressed with the immense good that WaterAfrica does by providing access to clean water, thus allowing for sanitation, education, and healthy babies and children.
Many of our Walk4Water5 Sponsors will join us to Walk tomorrow. Please thank them – we couldn't Walk4Water without them.