At the Annual Retreat last October, our WaterAfrica Board spent time focusing vision and setting new fundraising goals to:
Raise $1 million in the next 5 years
Engage more communities, churches, organizations, and small groups to partner with us
As we support World Vision's work to provide water to ALL Zambians in World Vision's Development Programs by 2020.
February has been a busy month in this work! Last week Gary & Judi Mittelstaedt and Bill Savage gave a presentation to the Rotary International Service Committee in Lake Oswego and we are very grateful for this important opportunity to dialogue as we seek ways to support each other in our work to help marginalized people around the world.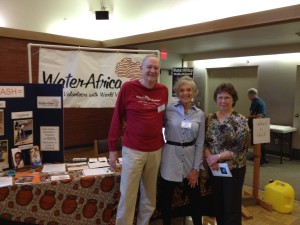 WaterAfrica also took part in the Lake Grove Presbyterian Church Mission Fair, February 14-15. We staffed a table after 4 different church services and this provided a wonderful opportunity to tell the WaterAfrica story and specifically to invite people to Walk4Water8. Walk excitement is building among families, youth, and scout troops who attended the Mission Fair. Please join us for this fun, life-changing community event!